Cirque du Soleil Varekai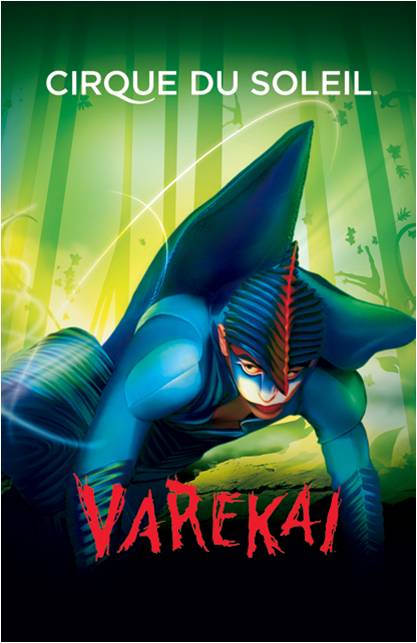 ABOUT THE SHOW

World renowned entertainers Cirque Du Soleil will bring their brand new arena act Varekai to the WFCU Centre for 7 performances from Thursday January 23 to Sunday January 26. Windsor will be Varekai's fourth tour stop since it embarked on a new journey this past December touring the world in arenas.

Deep within a forest, at the summit of a volcano, exists an extraordinary world¾a world where something else is possible. A world called Varekai.
The word Varekai (pronounced ver·ay·'kie) means "wherever" in the Romany language of the gypsies, the universal wanderers. Directed by Dominic Champagne,this production pays tribute to the nomadic soul, to the spirit and art of the circus tradition, and to those who quest with infinite passion along the path that leads to Varekai.
In this amazing new performance a young man is parachuted into the shadows of a magical forest, a kaleidoscopic world imbued with fantastical creatures and the story of Varekai begins. Varekai is an adventure both absurd and extraordinary that will be entertaining for the entire family. On this day at the edge of time, in this place of pure and undiluted possibility, begins an inspired incantation to a life rediscovered and to a newly found wonder in the mysteries of the world and the mind.
Show Schedule (January 23 – 26, 2014):
Thursday, January 23 at 7:30pm
Friday, January 24 at 4:00pm and 7:30pm
Saturday, January 25 at 4:00pm and 7:30pm
Sunday, January 26 at 1:30pm and 5:00pm

Click Here for a seating map of the show.

THURSDAY JANUARY 23-FRIDAY JANUARY 24 (3 SHOWS)
CLICK HERE FOR DETAILS ON WEEKDAY SHOWS
SATURDAY JANUARY 25 & SUNDAY JANUARY 26 (4 SHOWS)
CLICK HERE FOR DETAILS ON WEEKEND SHOWS
group rates available
Group Rates available for all weekday shows. Click here for Group rates.

Call or email Nick Rupert at 519-974-7979 x 4620 or nrupert@wfcu-centre.com for more details or to place your order.
dinner packages available
Enjoy a premium dinner or brunch buffet prepared by our Executive Chef in the Crown Royal Lounge only steps away from your seat before the show. Dinner and Brunch Packages include a ticket to the show, a commemorative gift, VIP Parking and a premium buffet.
*If you have already purchased your ticket and would like to enjoy dinner before the show you can upgrade to the Dinner Package by calling 519-974-7979 x. 4620.
CLICK HERE FOR THURSDAY/FRIDAY NIGHT MENUS

CLICK HERE FOR SATURDAY NIGHT MENU

CLICK HERE FOR SUNDAY BRUNCH MENU
For more information and to place your dinner package order call 519-974-7979 x 4620.

luxury suite rentals available
Experience the magic of Cirque du Soleil from a luxury suite in one of our premium suites - multiple packages available click here for more details or call 519-976-7979 x. 4614.